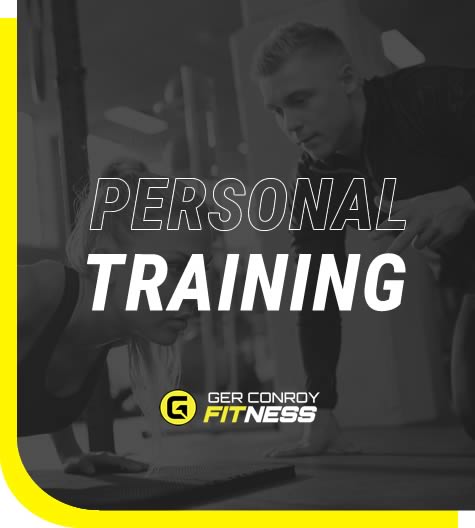 Get Fit, Stay Healthy with Fun & Engaging Fitness Classes!
Our fitness classes are designed for every fitness level and no two classes are the same. Our highly trained fitness instructors will show you how to safely & correctly complete all of the exercises so as to maximise your workout and increase your confidence in class. They're also there to give you that boost of motivation just when you need it most.
Whether you're a beginner to the gym or you're an experienced athlete, all our classes can be tailored to your fitness level and ability to ensure you have a challenging and effective workout. We pride ourselves on our non-judgmental, welcoming gym & class environment.
We are all here to improve to our lives through fitness! So, if you're worried about people looking at you, trust us, they're not! To put your mind at ease, if you have any concerns, you can contact us with any questions you have.
Fitness Class Timetables
You can view and download our fitness class timetables for Mulhuddart and Ratoath below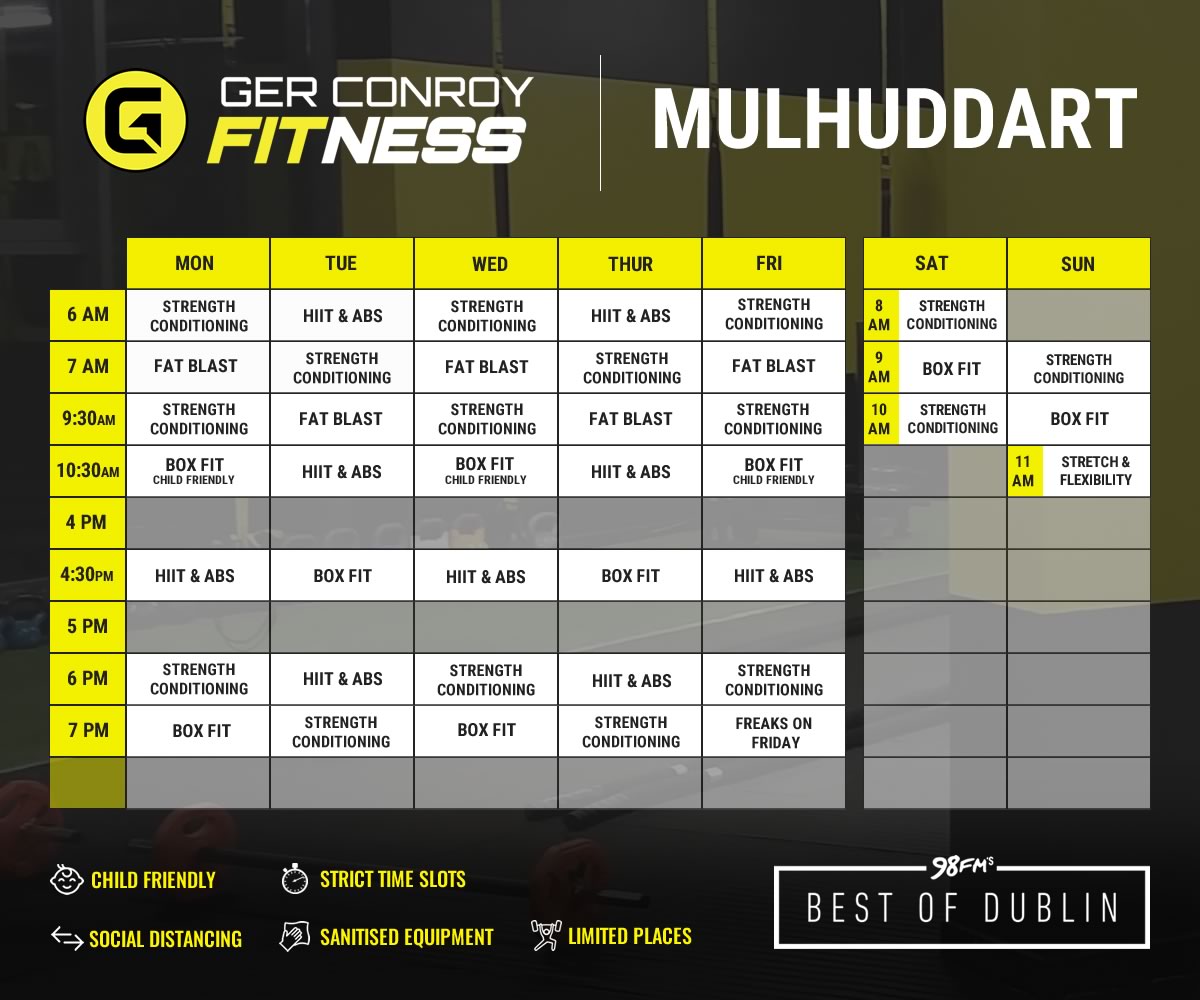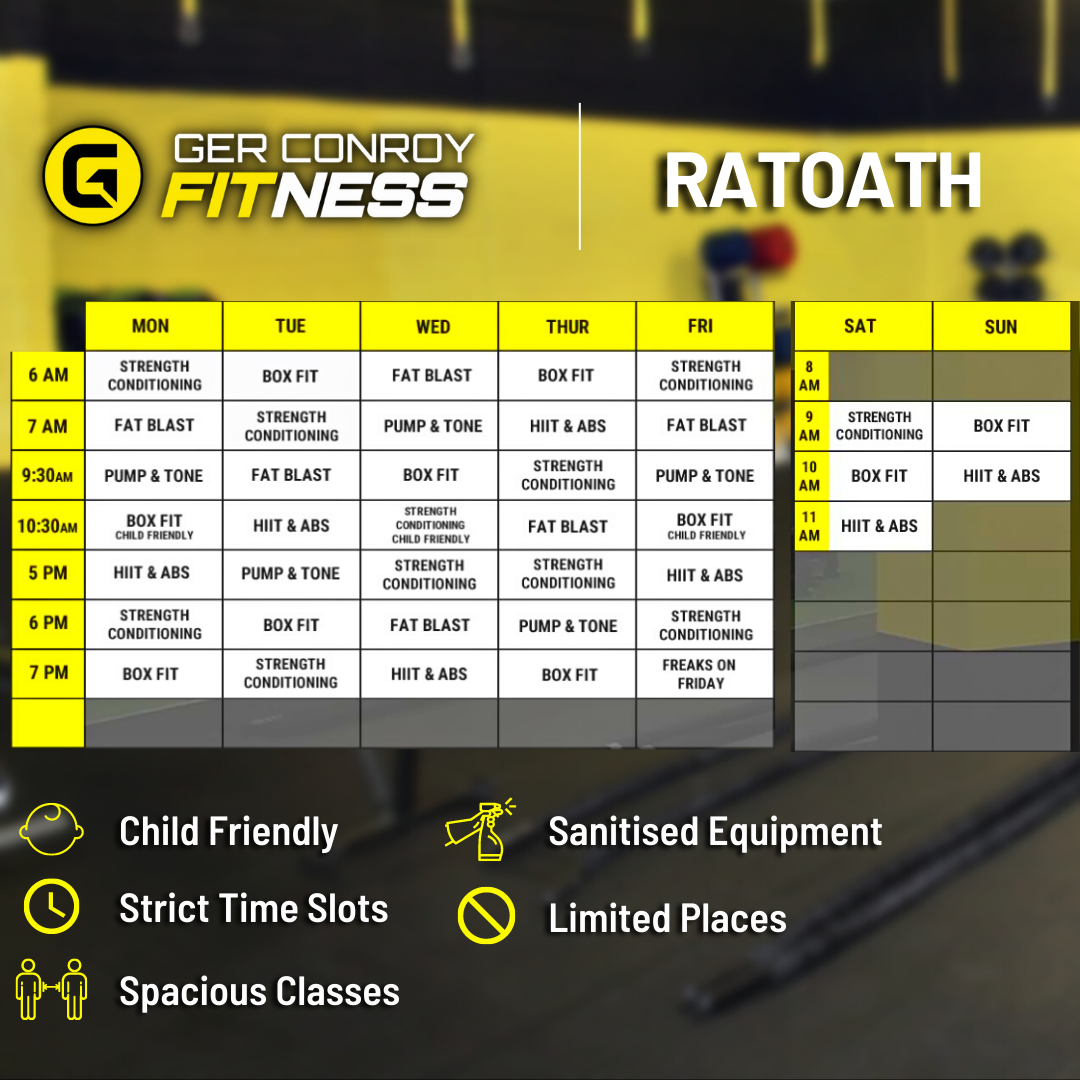 What to expect from our Fitness Classes
Fitness Classes at Ger Conroy Fitness
Strength & Conditioning
One of our members favourite ways to build strength and tone up is our S&C class. The benefits of strength and conditioning are endless. Definitely make it a part of your weekly routine.
Fat Blast
High intensity cardio and interval strength training come together in this class for a full body, fat burning workout designed to help you to blast fat and lose weight.
Pump & Tone
Low weight, high repetition training to condition, tone and strengthen your entire body.
Box Fit
Boxing based cardio workout. This class is a high intensity, fun and effective way of increasing your fitness and toning you up.
HIIT & Abs
This high intensity, fat burning and core toning class is fierce, energetic and a great way to tone up.
Stretch & Flexibility
Relax, get a deep stretch and improve your joint flexibility and overall mobility in this class designed to refresh and revitalise your body after a long week on the move.
Freaks on Friday
Great vibes in this 90's dance music class under the disco lights. Great tunes, even better workout. On Friday nights in Mulhuddart & Ratoath.
Child Friendly Classes
We know what it's like to have a busy schedule with work and kids, and then have to try and fit your social life and fitness in there somewhere too!
You shouldn't have to sacrifice something for the other, that's why we have a number of child friendly classes each week in both Mulhuddart and Ratoath.