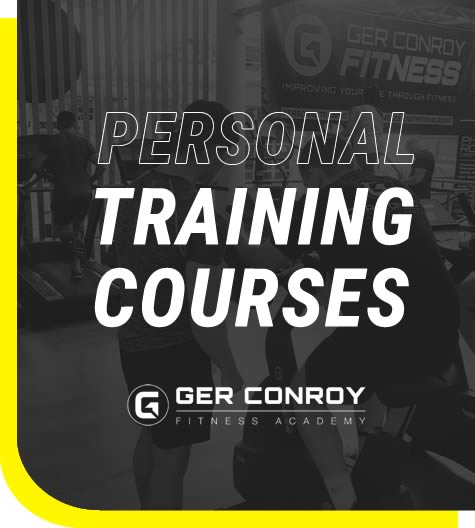 Turn Your Fitness Passion Into Your Dream Job
Welcome to Ger Conroy Fitness Academy where we deliver various ITEC certified fitness instructor and personal training courses Dublin that can help you on your fitness career path. We've put together easy payment plans to help everyone and anyone achieve their career goals. There has never been a better time to realise your dream as a personal trainer.
Here at Ger Conroy Fitness Academy we're excited to offer you the opportunity to become a leading Personal Trainer, Strength & Conditioning Coach and Fitness Instructors in our unique training facility here in Dublin.
What Personal Training Courses Do We Offer?
Personal Training Courses Dublin
Our Personal Training Courses are Accredited by ITEC – The leading international specialists in fitness & sport – ITEC are your passport to an international career.
Have the confidence in yourself to take on a new challenge and gain yourself a new qualification! Become a qualified Person Trainer with Ger Conroy Fitness Academy.

Every student that trains with with us is guaranteed an interview when you have qualified.
Personal Training Courses We Offer
Fitness Instructor Course – 12 Weeks (6hrs per week)
Personal Training Course – 12 Weeks (6hrs per week)
BoxFit Workshop
Indoor Cycle Workshop
Kettlebell Workshop
Suspension Training Workshop
We Offer Much More for Inspiring Personal Trainers
Ger Conroy Fitness Academy will offer their students something that has never been seen before including:
State of the art training & education facilities
Guaranteed on course work experience with Ger Conroy Fitness to learn all aspects of working in the fitness industry from the best in the business.
6 months membership to Ger Conroy Fitness to help you learn & develop your skills with Ger and the team
Fitness Instructor & Personal Training Course Prices
Fitness Instructor & Personal Trainer + 4 Workshops
Option 1 – Full payment of €2200 euros.
Option 2 – 500 euro deposit a further 3 instalments of €650 euros – Total €2450 euros.
Option 3 – 500 euro deposit and 10 payments of €320 euros paid fortnightly over 20 weeks.
All payments must be paid 4 weeks before final exams
Fitness instructor 12 week course and one workshop – €1350 euros
Fitness Instructor and 4 Workshops – €1700 euros
Payment plans are also available to suit everyone.
If you would like to inquire about our personal training courses please give us a call on 087 613 8797 or fill out the form on this page and we'll contact you back to advise the best one for you and your personal training goals.
How Can We Help?
For enquiries about our personal training courses please use the form below