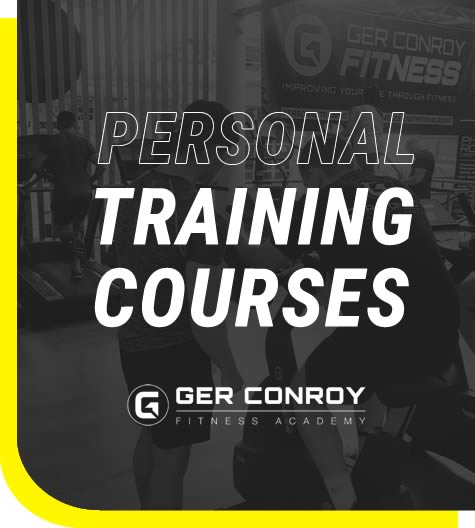 Turn Your Fitness Passion Into Your Dream Job
Welcome to Ger Conroy Fitness Academy where we deliver various ITEC certified fitness instructor and personal training courses Dublin that can help you on your fitness career path. We've put together easy payment plans to help everyone and anyone achieve their career goals. There has never been a better time to realise your dream as a personal trainer.
Here at Ger Conroy Fitness Academy we're excited to offer you the opportunity to become a leading Personal Trainer, Strength & Conditioning Coach and Fitness Instructors in our unique training facility here in Dublin.
What Personal Training Courses Do We Offer?
Personal Training Courses Dublin
Our Personal Training Courses are Accredited by ITEC – The leading international specialists in fitness & sport – ITEC are your passport to an international career.
Have the confidence in yourself to take on a new challenge and gain yourself a new qualification! Become a qualified Person Trainer with Ger Conroy Fitness Academy.

Every student that trains with with us is guaranteed an interview when you have qualified.
Personal Training Courses We Offer
Fitness Instructor Course – 12 Weeks (6hrs per week)
Personal Training Course – 12 Weeks (6hrs per week)
Kettlebells Workshop
Boxfit Workshop
Strength and Conditioning Workshop
We Offer Much More for Inspiring Personal Trainers
Ger Conroy Fitness Academy will offer their students something that has never been seen before including:
State of the art training & education facilities
Guaranteed on course work experience with Ger Conroy Fitness to learn all aspects of working in the fitness industry from the best in the business.
6 months membership to Ger Conroy Fitness to help you learn & develop your skills with Ger and the team
Fitness Instructor & Personal Training Course Prices
Fitness Instructor/Gym Based Exercise & Personal Trainer + 3 Workshops
Duration: 24 Weeks
Option 1: €2,200 paid in full upfront
Option 2: €2,450 Registration Fees €500 and then 3 instalments of €650 per month
Option 3: €2,750 – Registration Fees €500 and then 5 instalments of €450 per mont
All payments must be paid 4 weeks before final exams.
Fitness Instructor/Gym Based Exercise Course + 1 Workshop
Duration: 12 Weeks
Option 4: €1,350
Fitness Instructor/Gym Based Exercise Course + 3 Workshops
Duration: 12 Weeks
Option 5: €1,700
Workshops
Kettlebells
Boxfit
Strength and Conditioning
Payment plans are also available to suit everyone.
If you would like to inquire about our personal training courses please give us a call on 087 613 8797 or fill out the form on this page and we'll contact you back to advise the best one for you and your personal training goals.
Why Are Our PT's Choosing Us?
Have a look at what our past fully qualified fitness instructors are saying
Are you looking to Become a Fitness Instructor & Personal Trainer? Have a listen to Laura O'Grady and why she chose Ger Conroy Fitness Academy to become an ITEC certified Fitness Instructor. Did you know ITEC is a worldwide recognised certification you can travel with!
PT Course Gallery
Check out some of our passed PT's going through the motions on our PT course
Download Your Personal Training Course Brochure
Trusted Awarded & Accredited Personal Training Courses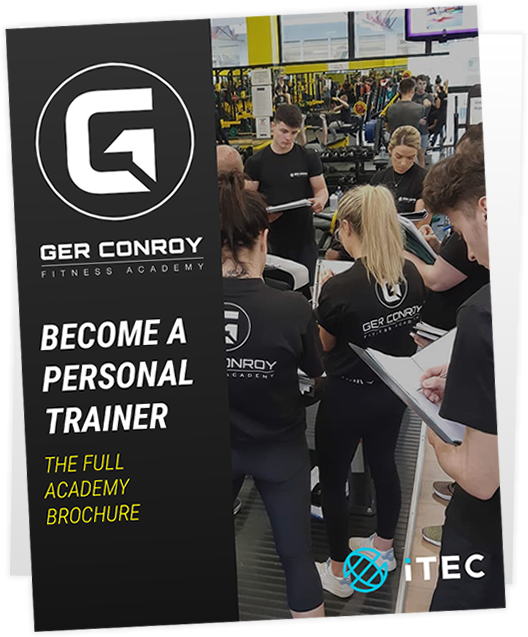 Personal Training Frequently Asked Questions
How much does a Personal Trainer make in Ireland?
The average personal trainer would earn between €30 and €60 euros per session. Trainers and the top of their game and with plenty of experience can charge up to €100 euros.
What qualifications do you need to become a personal trainer?
Essentially you don't need any qualifications to train to become a Fitness instructor/ personal trainer. At Ger Conroy Fitness Academy we do hold interviews for each candidate we feel an interest in health and wellbeing and an outgoing personality will benefit all future trainers.
How long does it take to become a trainer?
Our course lasts six months. It's not about the time tho it's the effort you put in during those six months. We offer as much help and support we can. We give all students full access to all our gym locations and every student is offered work experience during and after the course.
Where do personal trainers work?
Personal trainers work in a variety of different places. Commercial Gyms, small studios, sports clubs, schools, cruise ships, hotels, home gyms. Here at Ger Conroy Fitness Academy we offer every student an interview at the end of our course. We also have connections with gyms all around the country and put students forward for interviews in other gyms provided they pass all exams.
Can I travel with my certification?
Not with all certificates it's something that you need to be careful with. Ger Conroy Fitness Academy you can travel the world with. We are ITEC / VTCT accredited which is recognised all over the world.
How Can We Help?
For enquiries about our personal training courses please use the form below