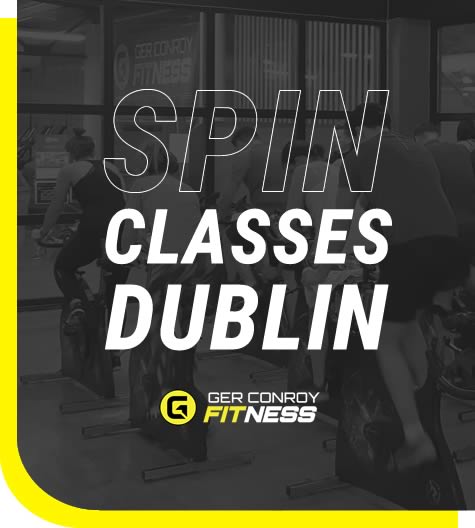 BURN CALORIES & BOOST FITNESS LEVELS IN OUR HIGH INTENSITY SPIN CLASSES
Spinning Classes per month on our state of art spinning bikes in Junction 6 Gym Castleknock and Mulhuddart Gyms in Dublin 15. Our spin classes run for 45 minutes. 1 months access to every fitness class you can imagine.
Our fitness classes are for beginners and advanced fitness levels. We will accommodate all. You get to plenty of fitness classes per week to choose from at our gym. Each class has a unique and friendly atmosphere.
Why Do Our Spin Classes?
Spinning Classes in Dublin 15 at Ger Conroy Fitness
Our dynamic new spinning classes have quickly become one of the most popular features here at Ger Conroy Fitness. Classes are mixed level, meaning that whatever your fitness level or experience with spinning, you can come along and work to your personal best in each class.
Our bikes are designed to help you gain maximum impact from every class. These top quality bikes feel like real road bikes, have comfortable, adjustable seats, and can measure your progress during each class. They monitor calories burned, distance, and heart rate.
Even the most enthusiastic spinner will find plenty of classes at Ger Conroy Fitness. We have 20 classes per month. Classes are scheduled at different times of the day, so no matter how hectic your schedule, you'll be able to get your spinning class fix.
You can choose a 1-class, drop-in pass, or set yourself up for total spinning success with an unlimited monthly spinning class pass.
SPINNING CLASS DETAILS
Spin Class Times 45 minutes per classes
Plenty of Spin Classes run weekly at various times
Advance Booking in is essential
WHAT TO EXPECT AT OUR SPINNING CLASSES:
Our spinning trainers create a fun and energetic atmosphere in every spinning class. They will guide you through each stage of the workout, motivating you at all times. Spinning is about keeping your muscles working at all times.
You'll move through different levels of intensity, and types of techniques, such as climbing, standing, and sprinting.
BENEFITS OF OUR SPINNING CLASS
There are so many benefits to attending our spinning classes. By attending regularly, you will:
Burn 700+ calories
Increase muscle tone
Reduce stress and clear your head!
Improve your cardiovascular health
Enhance your performance in other fitness and sport activities
Strengthen joints, muscles, and core to reduce injury risks in other exercise and sports
Why Are Our Spinning Classes Different?
A lot of people are asking why are spinning classes are different to everybody else's
Unlimited Gym & Classes
Join Ger Conroy Fitness Today!
Sign up for your free Ger Conroy Fitness account. You can then purchase memberships that suit you, join challenges, book into classes, manage your schedules and much more.